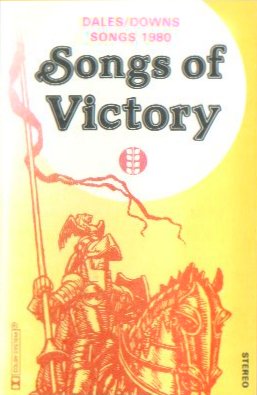 Songs of Victory

- Worship from Dales Bible Week, 1980
Yet another album of definitive Charismatic worship songs - simple to sing, easy to use for worship. There's nothing involved or complex about this music; it's all heartfelt, real worship. These are the songs that defined my early Christian life and those of many of my brothers and sisters too. I was here at this Dales Bible week - it was my first - and it was before I'd learned about singing in the Spirit; I can clearly remember trying to find the words in the songbook..... You may well laugh!
Although this is the best quality recording of this tape that I can find, it's not perfect. But in some ways that actually adds to it - it's not studio quality but tapes from this era were never intended to be so anyway. Let this recording take you back to the golden age of Harvestime worship!
Status: Recorded and processed - music preserved!

Track List
Lord give me also
Father we love You
The greatest thing in all my life
I receive Your Love
Wonderful Counsellor
Jesus You are changing me
I love You Lord
Thank You Jesus
Break forth and sing for joy
Your love is to me like an ever-flowing stream
Emmanuel
My heart overflows
You shall go out with joy
You are the King of glory
I stand before the Presence
For we see Jesus
Come and praise the Living God