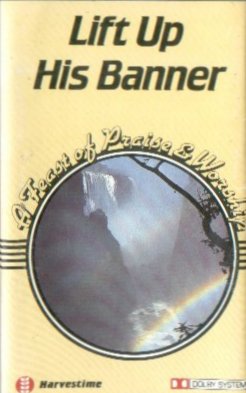 Lift Up His Banner

A Feast of Praise and Worship - Recorded Live at a Special Praise Gathering, Christ for the Nations Institute, Dallas, 1986
One of the best of the Dallas praise tapes, the exuberance of the live worship on this one has to be heard to be believed. Highlights of this CD include the lovely transition from 'My Soul Followeth Hard After Thee' into 'Come, let's Worship', the brilliant escalating key changes in 'Great and Mighty', which really lift the song and draw the listener into the worship, the supremely excellent instrumental (bass, drum, brass and keyboard) work on 'Great in your midst' and the sensitively-handled change of pace from 'Great in your midst' into the gentle piano intro for 'Great is the Lord'. In particular, I consider this album's rendition of 'Great is the Lord' to be the definitive version of the song. This is my favourite worship song of all time and this is my favourite version of it. Every album of this era had at least one song that was a real gem, and 'Great is the Lord' is the brightest gem in this album.
Status: Recorded and processed - music preserved!

Track List
Introduction
Great and Mighty
There is joy, joy, joy
Never never ever
I'm so glad
He opened up the gates
Prayer
As David did
The sound of joyful shouting
Fear not, for I am with you
I'm confident of this very thing
Hosanna
You are Lord of Heaven
My soul followeth hard after Thee
Come, let's worship
I will sing of the mercies
I will sing of Your strength
Fire, the Holy Fire
Exalt the Lord
For you who fear my name
Great in your midst
Great is the Lord
I Extol You
Blessed be the Lord God Almighty (Father in Heaven)